Boson Energy is one of 10 energy start-ups to qualify for the grand finale of Israel Energy Tech All-Stars 2023.
If you are in Israel on February 12th, do come to the event and watch some of the hottest energy start-ups in Israel. Register at https://www.ignitethespark.org.il/all-stars23 (opens in a new tab). 
Boson Energy is an enabler of true decarbonisation and zero-emission transport
– on a path path towards 1 million tons of Circular Hydrogen by 2030




Climate tech building capacity to save 25M tons of CO2 per year by 2030 – by producing 1M tons of local Hydrogen from 10M tons of non-recyclable waste.
Boson Energy went back to the roots of chemistry and system efficiency to develop thermochemical recycling for clean Hydrogen production – matching fossil fuels on price and local availability
Distributed modular plants producing 5-10 tons of Hydrogen per day from 100 tons of non-recyclable waste. Supplied to local hybrid stations delivering a flexible mix of 1-2 tons of direct Hydrogen or 20-40 MWhe of Hydrogen powered speed charging each. Output options include methanol, ammonia, urea.
Completely transforms the €1 trillion+ waste industry from a 'black sheep' into a champion of locally produced responsible and Circular Hydrogen – delivering unmatched climate mitigation, energy security, autonomy, high-performance construction materials, local prosperity and clean air/water/land
How do we reach this goal?
Execution with global partners for manufacturing, components, assembly: Motala Verkstad Group, RHI Magnesita, Topsoe and many others.
10 projects qualified into EUs strategic Hydrogen pipeline for a total of >60k tons of annual Hydrogen production. This corresponds to more than 1 GW of electrolyser capacity direct connected to wind. These projects are in development together with leading brands in energy, waste and industry.
Proprietary next-generation recycling technology – built on solid background and partnerships in science, execution and operation
Strong team of cleantech entrepreneurs with exit-history to Siemens AG, Nalco and Veolia. Experience from Siemens, Shell, Tetra Pak, HA Recycling… Read more about the team on our About Page
How does our Hydrogen, Speed Charging, Green Methanol and material output fit into the market?
Major impact potential: 1 ton of waste = 1 zero emission car for 1 year or 1000km bus/truck = 3 tons of CO2 avoided.
Fully circular: Hydrogen, speed charging, chemicals, green CO2 for commercial use and high-performance cell glass – from otherwise non-recyclable waste
Local availability, capacity and flexibility solve bottlenecks in electrification infrastructure for light-to-heavy duty transport
Profitable local Hydrogen below cost of diesel: 24/7 availability and integrated in the local infrastructure for dispensing or speed charging
'Unlimited' markets of 200M tons of non-recyclable waste in Europe (20Mt H2) and 2B tons globally (200Mt H2)
Read and watch more about Boson Energy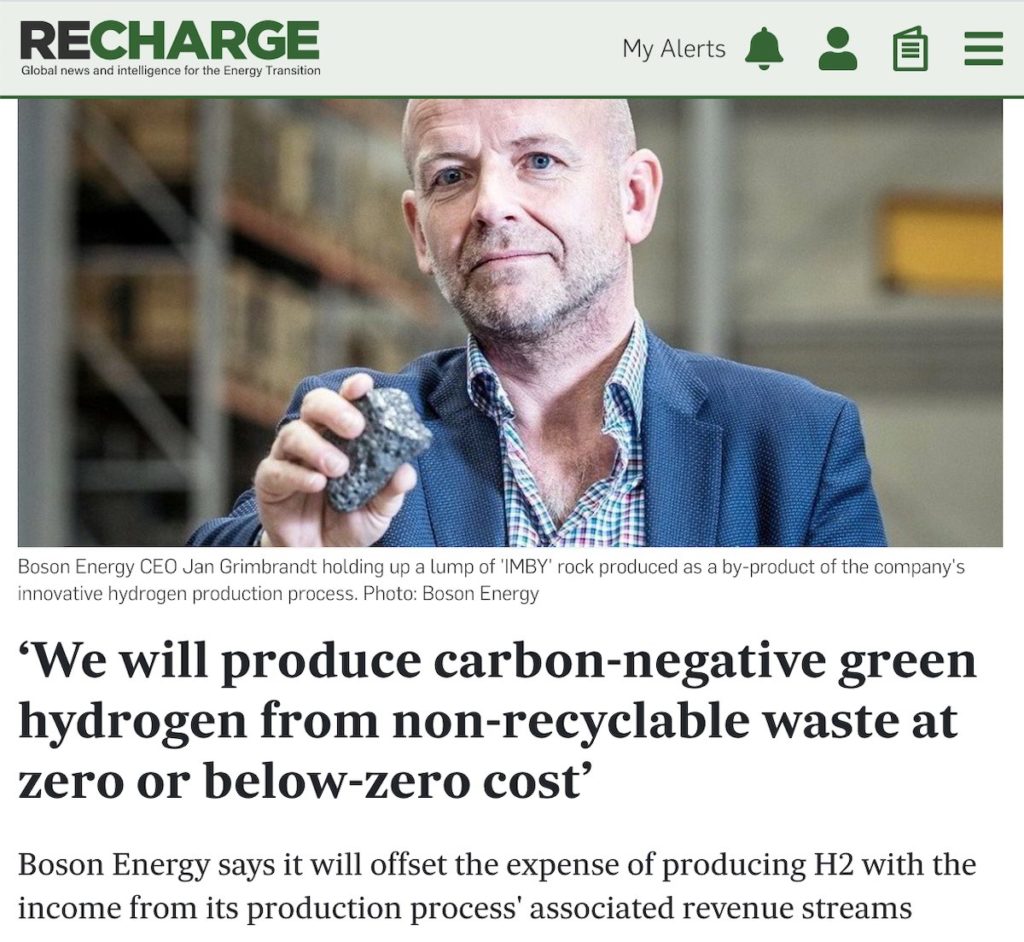 You will find articles, interviews and videos in the news section of our website.
Below you have a direct link to a Davos interview with our CEO and Founder Jan Grimbrandt (8 minutes). Click here or on the Youtube screen drop below.
You also have a link to a short interview with our CTO Liran Dor, who will present at Israel Energy Tech All-Stars 2023. Click here or on the Youtube screen drop below.
Go to our Contacts page to get on touch with us, or email directly to israel (a) bosonenergy.com